About Casa Mita
New built house, situated in a quiet and panoramic position above the bay of Citara.
Apartments
The apartments from two to four beds, have private facilities, kitchen and detached terrace.
Services
Wide Mediterraneann garden with pool and sunny terrace
Living room with TV, telephone. Bus stop at 40 m. Thermal park Poseidon reachable on foot in 20 minutes. Thermal cures at our hotel operating with NHS.
Distance: At 800m from the sea and town centre.

From April 4 to
October 13, 2015
Weekly prices 2015
Period
30.03
al 15.06
15.06
al 03.08
03.08
al 31.08
31.08
al 14.09
14.09
al 13.10
Monolocale
2 letti
€ 350.00
€ 400.00
€ 600.00
€ 500.00
€ 350.00
Bilocale 4 letti
€ 500.00
€ 700.00
€ 1.000.00
€ 700.00
€ 500.00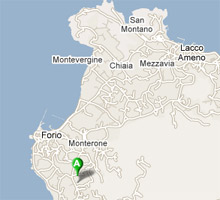 Services

Villa with pool

One room flat

Pool

Villa

TV

Two room flat

Cleaning lady

Open at Easter

Linen

Weekly cleanness

Garden

Forio - 80075
SS 270 - Citara
+39 081907995
cell. +39 3479591540