About Approdo Health & Beauty Center
Beauty Farm: Sauna, Turkish bath, Kneipp, Photochromic Shower, Waterfall Shower, Rain Shower, Fitness and Beauty Department.
Beauty treatments
Manicure, pedicure, pedicure healing, complete depilation, waxing partial shaving underarms, bikini waxing, waxing arm, waxing mustache, eyebrow waxing, hair removal man, face and body treatments.

Thermal treatments
Ozonized bath, Turkish bath, sauna, Kneipp, shower photochromic, waterfall shower, rain shower, Finnish shower.

Treatments in agreement with the S.S.N.

From
May 4 to October 11, 2015
spa packages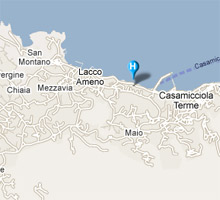 services

Beauty Center

Sauna and/or Turkish bath

Mud

massotherapy

homeopathy

Gym

Amex Visa Mastercard Diners

Parking

Transfer on request
posizione

In Hill

Near to the sea

Reservations welcome

Casamicciola - 80074
Via Eddomade, 29
+39 081994077
fax +39 081980185