About Hotel Club Scannella
The Club Scannella is set on the rocky and wild coast to the South of the island above a crystal sea, one of the most limpid of the Mediterranean Sea.
If you love the scuba diving, you don't miss the opportunity: in this crystal sea you'll know groupers and small different fishes. Melt into a good book or into the colours of the sea, discovering the charm of day without time.
To the fish-keens the club Scannella offers the possibility to boating for fishing inshore or offshore.
Rooms
Sun and suggestive, the rooms have private facilities and ventilation system. We suggest that you run everything off and, close your eyes and hear only the sound of sea..
A room with a view over the sea? Don't ask, that's all there is. There are only 20 rooms facing the splendid bay of Scannella.
Cooking
The kitchen is always open, as well as at your home, you can suggest what type of menu or Mediterranean tastes, typical sea food .
Pools
The club scannella offers three pools of warm water of which one indoor with hydro massage, situated 10 minutes from the town centre and 15 minutes by boat from the suburb of Sant'Angelo.

From April 1 to October 31 2015
Tariffe Hotel Club Scannella

periodo (dal-al)

01.03 - 31.10(Minimo)

01.03 - 31.10(Massimo)

prezzo

60,00 €

95,00 €

Prezzi indicativi a persona per giorno. Trattamento: mezza pensione.

 
offers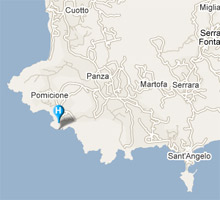 services

Parking

Restaurant

Private beach

Bar

Thermal baths

Dogs allowed

Indoor pool

Outdoor pool

Central heating

Solarium

Open at Easter

Internet/eMail

Telephone

Safebox

Transfer on request

Coeliac cuisine

Hair dryer in room

Forio - 80075
Via Scannella Mare
+39 081907181 - 081909426
fax: +39 081907181