Description Hotel Magnolia
The Hotel Magnolia is a small family-run business, particularly well cared for by the management. It is made up of a modem part, positioned in a small harbour and a high part on the hills behind, among rich vegetation, and it is in the latter that the Hotel Magnolia is to be found; an Oasis of tranquillity between the mountain and the sea, at 1.300 metres from the main centre, the sea and the beaches.
Rooms
The tastefully-decorated rooms come complete with bathroom, shower, direct-line private telefon, satellite TV, heating, balcony with sea view or mountain view, air conditioning and safe.
Kitchen
The kitchen produces home cooked food and traditional dishes such as rubbit cacciatore fish in "acqua pazza", Magnolia calzone grilled vegetables, vegetablele grown on the Island, national dishes fine wines and delicious dessert made here at the Hotel, all making marveUous candle-lit dinners with Neapolitan music and serene friendly atmosphere.
Wellness Center
Including indoor warm pool with Ihdromassages, Jacuzzi, Turkisch Bad , Kneipp Pools and Massages area. Pools: The Hotel has outdoor warm pool situated arnougth greenery, complete with Ihdromassages including surrounded by umbrellas, deekehairs, sunterraee and bar.

From March 1 to Decemebr 31, 2015
offers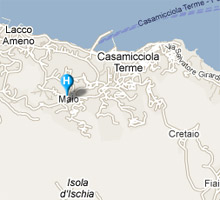 Services

Parcheggio

Ristorante

Camera con TV

Bar

Piscina Coperta

Aria Condizionata in camera

Piscina Scoperta

Riscaldamento centralizzato

Solarium

Sauna e/o bagno turco

Aperto a Natale

Aperto a Pasqua

Telefono

Parco giardino privato

Custodia valori

Carte di credito

Transfer a richiesta

Phon in camera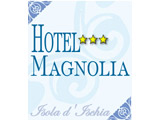 Casamicciola Terme - 80074
Via Epomeo, 3
+39 081994207
fax +39 081996106