About Hotel Mare Blu Terme
Terme Mare Blu Hotel is a five-star hotel on the seaside which, due to the high quality of its services and its prestigious environment, certainly deserves this high category. Its stern look, proudly showing its original function as an Ischian aristocratic villa (as you can notice in its refined outer architecture), perfectly combines with the kindness and great sense of hospitality of its exclusive managers, since 2011 when the Alysandy Luxury Hospitality group purchased it. This is the leitmotiv of each sojourn here. The Mare Blu range of services is completed by two thermo-mineral swimming pools, a spa working on the basis of an agreement with the National Health System, a beauty farm, a private beach and very spacious outdoor and indoor common areas.
Rooms
Terme Mare Blu Hotel has 43 bedrooms, 17 of which face the sea. There are 15 standard rooms with windows, 9 superior rooms with windows, 7 superior rooms with balconies, 8 deluxe rooms with small terraces, 3 junior suites and 1 splendid panoramic suite. Furnished with style and endowed with all the main comforts, they are all peaceful and our room service is ready to satisfy any request you may have.
Pools
A "spot in the sun" at Mare Blu? You just need to choose among the large, pleasant and practical outdoor areas surrounding the two thermo-mineral swimming pools and the beach for guests only, right in front of the Hotel.
Restaurant
In 2011 the cuisine of the Mare Blu, which was already quite renowned, reached even higher levels of excellence, thanks to Ciro Calise's supervision. Besides being the owner, along with his wife Anna, he is, first and foremost, an exceptional chef. He painstakingly selects ingredients and recipes, which perfectly respect the Mediterranean tradition and the Ischian one in particular. You can enjoy all this at lunch in a pleasant snack area on the quiet terraces or at dinner in the simple but elegant restaurant room..
SPA & Terme
The Island of Ischia certainly needs no introduction in this field, since it is one of the most famous spa resorts in the world and it is unique for the great variety of its thermal springs and their specific therapeutic properties. In its "Alysandy Space", Terme Mare Blu Hotel has an indoor spa for its guests exclusively, where under careful medical control you can enjoy traditional spa treatments (mud-bath treatments, bath treatments, aerosol, inhalations, etc.) or enjoy restoring massages and aesthetic treatments performed in compliance with the most renowned techniques, with prestigious Comfort Zone and Ischia Beauty cosmetic lines of products.

From April 24 Aprile to November 2  2015
offers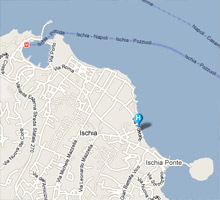 services

Parking

Piano Bar

Restaurant

Private beach

Camera con TV

Bar

Thermal baths

Dogs allowed

Air conditioning in room

Outdoor pool

Central heating

Solarium

Gym

Mini-bar in room

Sauna and/or Turkish bath

Baby Sitting

Beauty Center

Internet/eMail

Telephone

Elevator

Private park garden

Congress

Safebox

Credit cards

Transfer on request

Hairdryer in room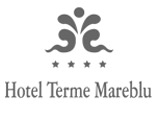 Ischia - 80077
Via Pontano, 36
+39 081982555
fax +39 081982938