About Hotel Maronti
The hotel Maronti by brothers Giovanni and Rosalba Mattera, is situated in a quiet area of Maronti, at few metres from the homonym, beach and with a splendid view of the sea. Wide equipped terraces permit to enjoy the healthy sun, from sunshine to sunset. At the more wide terrace buffet breakfast is served, in the shadow of magnolia and oleanders.
Rooms
The hotel has 25 rooms all tastefully furnished with private facilities, hairdryer and telephone.
Restaurant
Special care is dedicated to cooking, Neapolitan and local one.
Garaden
The hotel is surrounded by a luxuriant greenery made of olive-trees, bouganville, hibiscus and typical Mediterranean maquis that makes the place relaxing and quiet, above all a very high centuries old palm.

From
April 16 to
October 20, 2015
offers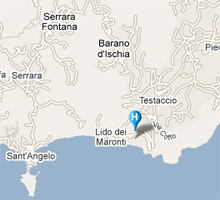 services

Parking

Restaurant

Bar

Dogs allowed

Central heating

Solarium

Baby Sitting

Open at Easter

Internet/eMail

Telephone

Agreed thermal establishment

Private park garden

Safe

Transfer on request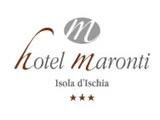 Barano - 80070
Via Maronti, 83
+39 081990162
fax: +39 081906094