About La Rotonda sul mare
Our villa, recently restructured, mantains its original acrhitecture in Mediterranean style, consists in 2, 4 or 6 beds, overlooking the sea to live in contact with perfumes and the sea itself.
Apartments
One room flatwith double room or twin room, kitchen, bathroom and terrace.
Two room flat with double room ot twin room, living room and kitchen, bathroom and terrace.
Three room flat with one double room and terrace sea-view, one another double room with a bunk bed, kitchen and bathroom with wide terrace at the first floor.
Services
Equipped kitchen, linen, TV, washing machine, free shuttle service from and to the port. Cleanless at departure. We want to give you unforgettable moments in this beautiful natural beauty of the island, have a nice holiday!

Open all year round
offers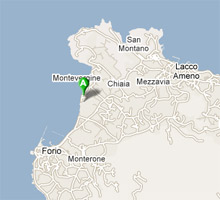 Services

One room flat

Villa

TV

Two room flat

Parking

Dogs allowed

Open at Christmas

Open at Easter

Open all year round

Lavatrice

hairdryer in room

Linen

Weekly cleanless

Heating

Air conditioning

Forio - 80075
Via Aiemita, 29
+39 081987546
cell. +39 3336985665