Description of the trail
Starting from the headquarters of the Pro Loco of Panza, where a street that runs through the center of the hamlet, through a path that passes through a thick grove of oaks and heather, at the top of the bay of Pelara, important geological site, where you can enjoy a breathtaking view; The descent is introduced by a steep staircase with wooden steps carved into the tufa that lead to a stratified wall of pumice, ash and lapilli. From here the trail winds through a lush grove of oaks and holm oaks, but we also find species typical of the Mediterranean maquis: the heather, arbutus and mastic. Beyond the clearing, a scale rustic, made by volunteers of the Pro Loco Panza, allows you to overcome the difference in an easy way, to get to the coast and the sea. The lifts will be accompanied by the essences and colors of the plants that grow in the bay and will take us to the tip of Mount of Panza, where the eye is lost in the immensity of the sea. A viewpoint that invites to meditation designed to restore mind and soul. In addition to the typical coastal vegetation is of particular interest the presence Orchid Serapis.
Going back to a certain point by a road we come to a viewpoint over the bay of Sorgeto. After a series of geological observations / nature on the area, we will drop down to talk about the phenomenon of hot water typical of the area tasting beneficial effects. Interesting excursion from a historical- natural but mainly emotional perspective.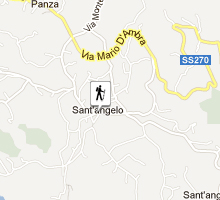 0813334774
Info
Duration: 3 h circa
Difficulty: T/E
Difference in altitude: 100 m
Descent: 100 m
Maximum altitude: about 200 m
Development of the trail: about 4 Km
Start: Panza (Pro Loco seat)
Arrival: Panza (Pro Loco seat)
Path: Panza (Pro Loco seat), center of Panza , Sorgeto, Baia della Pelara, Monte di Panza, Panza (Cenerentola parking)
Equipment: trekking shoes and clothing, water.
Match point: Panza (Pro Loco seat)