Description
Casa Mosca is a large house reachable on foot through the Pannocchia path, a mule track from Monterone to the wood of Falanga. Situated in an isolated and covered area 225m above a cliff, in unstable balance, made of a tuff stone with outdoor stairs toward the summit-observatory.
The house represents a main rural architecture style of the island, such as the stairs and the root canal treatments show. On the rock is cut the letter M, initial of Mosca, owner's name.
The house, dug into a tuff stone, was realized by peasants settled in the wood of Falanga to avoid the displacements ion the area.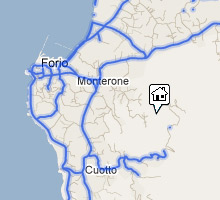 Info
Address: via Corbaro (loc. Pannoccia)
Municipality: 80075 - Forio
Foundation Period: XVIII
state of preservation : good
Legal Condition: private property