Ristorante Club Scannella

0.0

(

0

)
About Ristorante Club Scannella
The cuisine by CLUB SCANNELLA is always open, as well as at your home, you can taste special menu or taste aroma and Mediterranean flavours thanks our seafood.
If you want silence, perfumes and the real sea view, you have found your paradise. The CLUB SCANNELLA is built up a rocky and wild coast to the South of the island above a crystal sea. The CLUB SCANNELLA offers three warm pools, whose an indoor one with hydro-massage.
The CLUB SCANNELLA on the island of Ischia isn't the only restaurant. It's also a small marine park where you can spend an entire day at the sea, with a pool dug into the solarium rock and a wonderful sea where snorckling.
Our special dishes
The menu is based on the daily catch, very good and abundant the antipasto and starters.
Prices
Set menu - à la carte: 36€ / 55€
Ristorante Club Scannella Location
Overlooking the sea, dug into a granitic rock to the South side of the island, it's reachable by land through a path of 300 m, the bus stop and the nearby suburb of Panza are 1,6 km and about 20 minutes on foot away, in summer a mini bus links the area. By sea the restaurant is a pleasant stop where feed yourselves, the boat can be let anchoraged near the beach and if you have not a tender, the owner pick up you by his boat, don't forget the phone number to reserve.
Special evenings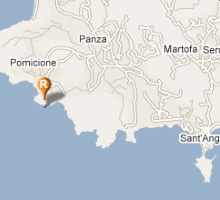 Opening hours
Open from 01/04 to 31/10

LUNCH
11.00

16.00
always
open
DINNER
19.30
21.00
closed dal 01/11 to 30/03

LUNCH


closed

DINNER
cuisine
typical
meat
fish
coeliac
pizza


services

Private beach

Bar

Dogs allowed

Open at Easter

Private park/garden

Congress

Amex Visa Mastercard Diners
position

Near the sea

Reservations welcome
Forio - 80075
Via Marina,
+39 081907181
fax +39 081907181
This e-mail address is being protected from spambots. You need JavaScript enabled to view it
User reviews