Description
One of the most suggestive areas of the island is S. Angelo, ancient marine suburb, consists of colored houses around the port, closed by a small beach where quiet and crystal sea predominate.
Ten years ago the port of S. Angelo was 'cigaretteggers' destination, that thanks to the quick hulls, flew on the sea of the Gulf of Naples to escape by police.
How to reach the beach
The beach of S. Angelo is situated in the municipality of Serrara Fontana.
There are 3 bus lines, two across the municipalities of Casamicciola Terme, Lacco Ameno and Forio.(CS – 1 )and one across the municipalities of Barano and Serrara Fontana (CD). All these stop to S. Angelo, in the big square called Cava Grado.
The beach is not reachable by car, because it's situated in the famous suburb not allowed cars, leave at the ample public parking near the beach.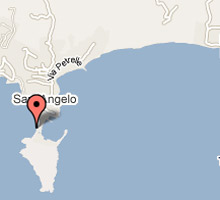 Info
Fine sand, shallow floor inside the cliff and very deep outside.
Bus lines: CD - CS - 1
services

In the centre


Bar


restaurant


panoramic


public phone


Shopping