About Terme Colella
The thermal springs of the island of Ischia is used for therapeutic purposes since the VII century BC. An ancient hydrothermal basin is located in the town of Forio Monterone, where they were built "Terme Colella" homonym three star hotel.
La sorgente sfruttata nelle TERME COLELLA fa parte del bacino termale di Monterone noto fin dall'antichità per le manifestazioni fumaroliche con presenza di zolfo ed allume sgorganti dalle pendici di Monte Nuovo.
Beauty Treatments
The source used in the Terme Colella is part of the basin thermal Monterone known since ancient times for the presence of fumarolic sulfur and alum gushing from the slopes of Monte Nuovo.

Thermal treatments
Thermal bath, mud and thermal shower, topical, mud bath, single iontophoresis, iontophoresis bilateral, ozone, massage, body massage, special massage, reflex foot massage, lymphatic drainage, remedial gymnastics individual tissue massage, massage for headache, aerosol, inhalation.

Treatments in agreement with the S.S.N.
Mud therapy, thermal baths, inhalations.

From
April 21
to
November 3
, 2013
Spa packages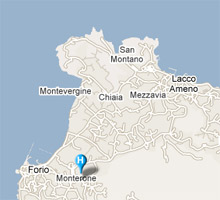 services

Beauty Center

Mud

massotherapy

Inhalations

Gym

Stabilimento termale convenzionato

Open at Easter

Parking

Transfer on request
position

Historic center

Forio - 80075
Via Monterone, 55
+39 081989279
fax +39 081997035