Typical island dance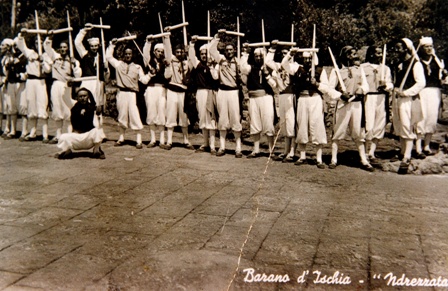 The theories about the origin of this dance and its importance on the island are so many. Some people think about it has Greek origin, other ones comes from Spain. It's known that similar dances are usual in Egypt, Sudan, Polonia and Italian areas like: Sorrento, Arezzo and Sicily. The historical sources are two: a text protected in the Biblioteca Antoniana of Ischia
citing an ode by Filippo Sgruttendio, popular in Benevento back in 1600: 'I invite Cecco to see the 'Ntrezzata; a manuscript which was recovered in the sacristy of the church of San Giovanni Battista in Buonopane. This manuscript tells of the bishop's intervention in the settling of a controversy (which caused many deaths) amongst the inhabitants of Buonopane an Barano. It tells of two men, Rocc'none of Barano and Giovanni of Buonopane, who both were courting the same woman. Rocc'none was a sailor, therefore during one of this trips he bought a sash (or a shawl, which explains why Rocc'none felt a betrayed lover when he saw Giovannone wearing it. Rocc'none challenged Giovannone to resolve this situation by the bridge that divided Buonopane and Barano. Around 1930 the first costume for the 'Ndrezzata was realized; it drew its inspiration from the past common people, mainly fishermen. The cloths were poor and in order to save fabric the sleeves of the shirts were sown to the cloth's waistcoat and were secured by a double line of buttons; the pants went just below the knees, with strings tied at the extreme ends. The dancers wore leather sandals. At the end of '50 Ischia was subjected too much attention by tourists. Amongst those interested were the Rizzoli and Malcovati families who were particularly interested in the local folklore. Acknowledging the cultural and entertainment value of the 'Ndrezzata, they proposed the formation of an association of the various forms of traditional entertainment throughout the island. From the Trallera of Fontana the parades or serenades were exposed, from the 'Ndrezzata of Campagnano the lectures were highlighted, from the Intrecciata of Forio the fishermen costumes were exposed, from Mascarata of Buonopane the choreography of the dance surfaced. The costume (which was inspired by the tricolor of the Italian flag) was then embellished with an collar and a little ball on the hat. The costumes are sewn in green and red velour and the leather shoes give the look of a courtesan. From the folkloric tradition the 'Ndrezzata has become a show. Folk school.
'Ndrezzata Gruppo Folk
Gruppo ufficiale della danza folkloristica ischiatana composta da 8 danzatori ('ntrezzaturi), quattro suonatori, due fiati (clarini) e due tammorre.
Info:
via San G. Battista, 15 tel: 081 905164
Bus lines: >> CS, CD, 5