Trattoria il Focolare

0.0

(

0

)
About Trattoria il Focolare
Green is the colour of the island, thanks to the vineyards, the rich local prodcution, with aromatic herbs, but especially fro the green tuff, the stone of the island. The heritage of the island is the
family d'Ambra
that dediced to value it, establishing with the blue sky and sea a special gastronomy linked to the fish. All began when Riccardo d'Ambra, his wife Loretta and the numerous family created a local in competition with other ones. Nowadays the kitchen is managed by Agostino and Francesco, and mum Loretta, while hall is the reign of Silvia and the sisters Luciana and Mariateresa, Antonella and Cristiana. Finally Riccardo, the master of many enterprises.
Our special dishes
Among the antipasti, we choose the crostini with wild garlic, potatoes shape with spices and slices of fried aubergines seasoned with tomato sauce and grated Parmesan cheese baked in the oven. The first courses include paccheri with garlic, ravioli with endive and cooked wine, wild mezzanelli, with tunz' e paparastiell', or bean soup. The second courses, different meat like lamb's knuckle, tagliate cooked on stone of Agnus and Razza Piemontese and on request, the rabbit in hole, maybe with seafennel side dish ( chrittimum marittimum, rises up along the marine coasts). As desserts we recommend the crème Brule and chocolate soufflé with cream, apples bread with lavender and rosemary.
Prices
Set menu - à la Carte: 36€ / 55€
Trattoria il Focolare position
Dug into one of the green areas of the island of Ischia, on the hill ofg Cretaio, the trattoria is easy to reach by car, it has private parking for guests, welcoming but often unable to host all the guests, reachable by bus, line 16 to link Cretaio to the town centre of Casamicciola, unfortunately during the winter the rides end at 19,30 pm, while in summer late at the night.
Special evenings
La Grande Maialata
the last two week end in january
San Valentino
on February 14th
Holy Easter
al Focolare
Menù 2010
Herbs, and
May
Grain and maize
June
Lumaca e Zucca
July
Fungo and Castagna
October
Gran Gala
on December 31st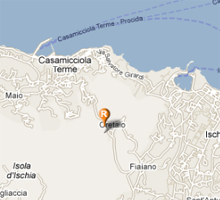 Opening hours
Summer from 01/06 to 02/1

LUNCH
12.30

14.45
sempre
aperto
DINNER
19.30
23.30
Winter dal 03/11 to 31/05

LUNCH
12.30

14.45
closed
wednsdays open at lunch only Sat and Sun. Closed from 9/12 to 27/12
DINNER
19.30
24.00
cuisine
typical
meat
fish
coeliac
pizza



Parking

Pets allowed

Air conditioning

Services for disabled

Open at Christmas

Open all year round

Open at Easter

Private park/garden

Congress

Amex Visa Mastercard Diners

Transfer on request

Reachable by car
posizione

Hill

Reservations welcome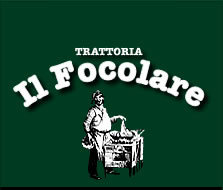 Barano d'Ischia - 80070
Via Cretajo al crocefisso, 3
+39 081902944
fax +39 081902944
This e-mail address is being protected from spambots. You need JavaScript enabled to view it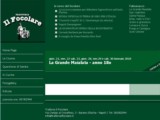 User reviews