About Hotel Villa Teresa
n the termal heart of the island overlooking the enchanting Citara Bay! The prestige of the house is the direct and personal relation with our guests, to whom is reserved a particular service and the welcome of former days. Who stayed at the Park Hotel Villa Teresa preserves an affective and rich memory of the persons and places, the wonderful awakenings, the evenings spent in the restaurant while the sun is leaving the sky… Just ten minutes away from down town , five minutes from the beach, and twenty minutes from the the wonderful mountain path. Thanks to his strategic position Ischia island it's an ideal spot for daily excursion to the Amalfi coast, Capri and all the cultural events taking place in the nearby Naples The Hotel Terme " Villa Teresa" is awaiting you to pamper every single guest because like Truman Capote said in the 1949 once arrived in the Citara Bay "…definitely it's not a place where the time goes fast…"
Rooms
Park Hotel Terme "Villa Teresa" offers comfortable and refined rooms, in three buildings, all set in verdant gardens, Rooms with views over Citara Bay and Mount Epomeo in our main building. Modern furnishing characterizing the area in pastel shades and tiled in Vietri "pettinato" in the new "Amerique" complex surrounded by a mediterranen gardens, or the "Swimming rooms" in a unique scenario, wake up and swim ……it's not a dream!
Restaurant
It is without doubt one of the most important moments of the day and that is why we have thought of offering you anything or almost anything you may desire. Every day for a magic breakfast from 7.30 a.m. until 11 a.m. with a rich buffet with local specialities, a lot of different types of fruit, marmalades and other goodies . . . and if you do not find everything you wish do not forget that we are at your full disposal! Our Executive Chef offers Mediterranean plates with great usage of local ingredients such as basil, olive oil and cherry tomatoes. We wait for you in our Swimming Pool Bar " Teresa" for a pleasant light lunch to keep the balance of the organism from 12 p.m. until 2.30 p.m.… and for dinner from 7,30 p.m. to 8,30 p.m. with a suggestive and magical atmosphere to fulfil the desire for a good and genuine cuisine.. Each week the Hotel Terme Villa Teresa hosts a Gala Dinner for its guests with traditional folk music and an evening of dancing.
Pools
Ischia is known worldwide for its beautiful sea, its mild climate and especially for its thermal waters which have been used since ancient Greek and Roman times. In total there are 29 thermal springs dotted around the island.
Spas
Water and mud greatly contribute to one´s beauty. Thermal swimming-pools and special treatments provide guests with the great benefits of water resulting from the long path followed by water in the deepest bowels of the earth.
Those choosing to stay at the Villa Teresa are embracing a new philosophical approach to the whole spectrum of health and wellbeing. The Venus Spa is not just a gateway to the rediscovery of a correct psycho-physical balance;it is not just a delightful place to undergo cosmetic treatments; above all, it is a positive affirmation of life, energy and beauty. The newly refurbished "Venus" spa at the HVT with its refined rooms and highly qualified staff is the ideal place for relaxation, healing and plenty of pampering.

From April 3 to November 11 2015
offers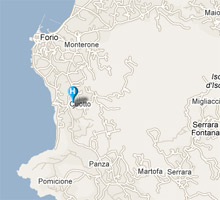 services

Entertainment for children

Parking

Piano Bar

Restaurant

TV in room

Bar

Thermal baths

Dogs allowed

Indoor pool

Air conditioning in room

Outdoor pool

Central heating

Solarium

Camera con frigobar

Baby Sitting

Beauty Center

Open at Christmas
Open at Easter

Open all year round

Telephone

Elevator

Agreed thermal establishment

Parco giardino privato

Safe

Credit cards

Transfer on request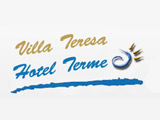 Forio - 80075
Baia di Citara
+39 081907126 - 081909029
fax +39 081907594