About Hotel Villa Al Mare
The structure was built and opened in 1964. In 1980 it was enlarged and redecorated; now it has 29 rooms, of witch 24 with seaview, restaurant, bar with sheltered terrace, heating, swimming-pool with hot thermal water (33°), solarium and parking. All around the garden is plenty of luxuriant, blooming plants and flowers, and besides the hotel is an orchrd too, that gives the kitchen genuine fruits and vegetables. The food is tasteful and typical, dainty disches of Ischia are carefully prepared. The busline link up comfortably and often Maronti beach with Ischia Porto. The busstop is down the hotel.
Rooms
Our rooms are placed to enjoy the wonderful view of Maronti Bay. The breathtaking sundowns, the beauty of this verdant island let you have a very relaxing experience. All the rooms have furnishings made of wood or wicker and wrought iron decors, private bath, telephone, balcony or terrace.
Pool
On a terrace with deckchairs, beachumbrellas and the beautyful view of Maronti Beach is the pool. Its hot thermal water at 33° is really relaxing, expecially after a long day spent on the beach or walking round the island. Then is a garden with flowers, plants and trees, and some shaded spots where one can read or lay in peace when the day get heat.
Beach
From the ample balconies and from the balconies of the hotel the magnificent Bay of the Marontis can be admired, its beach and to the horizon the Promontory of Sant'Angelo.
The Beach of the Marontis is considered among the most beautiful of the island, along its shore so many restaurants are prepared, whether to be able to refresh himself/herself/themselves after having spent pleasant times on the beach.
The suburb of Sant'Angelo is reachable by taxi boats or through a suggestive path.

From March 27 to November 6
offers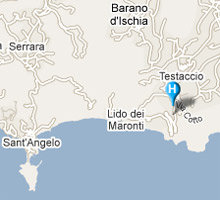 services

Parking

Restaurant

Private beach

Bar

Thermal baths

Indoor pool

Outdoor pool

Solarium

Sauna and/or Turkish bath

Open at Easter

Internet/eMail

Telephone

Elevator

Private park garden

Safe

Credit cards

Transfer on request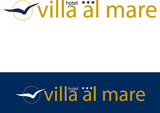 Barano - 80070
Via Maronti, 38
+39 081990054
fax +39 081905277