Città di Ischia
The municipality of Ischia, the same name of the Island, is divided into two small fractions, less distance by each one: Ischia Porto and Ischia Ponte. Ischia Ponte derives its name from the wooden bridge, that until 1700 has linked the Castle to the suburb, built afterward in permanent structure.
Ischia is the municipalità most popolate of the Island with many hotels and tourists. It has the most large and attractive shopping center from Via Roma to Corso Vittorio Colonna.
From Porto to Ponte it's possible to walk the most nice stops of the municipality. At first sight, we find the royal residence Casina Reale, Ferdinando II of Borbon in the past, and then the crowded Via Roma, shopping center, and the beach of San Pietro. Finally, the suburb of Celsa in Ischia Ponte up to Piazzale delle Alghe and the wonderful Castello Aragonese.
Entertainment and attractions are guaranteed: think about the Rive Droite with night-clubs, piano-bar, discos, folk taverns, typical restaurants, art stores, boutique.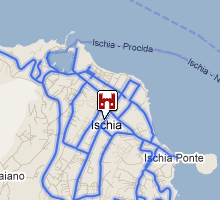 Info
Municiplaity of Ischia
CAP: 80077
Area: 805 ectars
Inhabitants: 18253
City hall: tel 081 3333111
Bus lines: CS - CD - 1 - 2 - 7 - 8 - 15 - C12 - C13 - 3 - 5 - 6