Description
The Port of Lacco Ameno consists of three distinct structures:
Il Fungo with a private dock for ferries and two floating docks on the west side, with shallow floors, hosts up to 120 small boats.
Vhf channel 10 - Tel. +39 081994821
SHYC - Seventh Heaven Yachting Club to the west of the pier "Fungo" on the cliff outside the pier, a wharf was built 107 m long and consists of a mobile structure mounted on the cliff, up to 12 pleasure boats between 24 and 110 m and is operational from May 1 to October 15.
Vhf channel 69 - phone +39 0813330696 - fax +39 08196333 - mobile +39 3402916865 - +39 3334921859
Marina di Pithecusae new facility with floating docks, entrance at 400 meters from the jetty to the east of the Fungo, to host 200 small and medium size boats.
Vhf channel 10 - Tel. +39 081994821
Info
Opening: always.
danger: pay attention to the dry and rocky outcrops.
Cards I.I.M.: n. 914, 9, 10, 129, 82
Portolano del Mediterraneo: P4: pag. 71.
Elenco dei Fari: pag. 180
Coordinates: LACCO AMENO - I. D'ISCHIA 40°45',18 N 13°53',58 E
N. places for boats: 332
Overall length: mt. 90
Bed: sandy / posidonia.
Floors: the dock from 0.50 to 5 m
Radio: Vhf channel 10 il Fungo and Marina di Pithecusae - Vhf channel 69 SHYC - Seventh Heaven Yachting Club.
Winds: north wind.
misfortune: I quadrant.
Close to: sirocco.
The nearest safe harbor: S. Montano bay.
Areas reserved to pleasure crafts
The moorings are managed by the company Heaven's Quay Yachting, on the pier 'Fungo' and the new marina 'Marina Pithecusa'.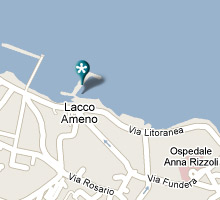 Services
| | |
| --- | --- |
| Fuel | |
| Water | |
| Elecrticity | |
| Slipway | |
| Slipway | |
| Gru | |
| Travel lift | |
| Sanitation | |
| Security and Fire | |
| Weather Service | |
| Engine repairs | |
| Electrical repairs | |
| Parking | |
| Security | |
| Mooring | |
| Divers | |
| Rubbish collection | |
| Lighting docks | |
Marina di Pithecusae
+39 081994821