Description
The beach of velisti is adjoining the port of Forio and the sailing club "Yacht Club Vela.it". It's the only beach on the island suitable for sailors, it has slipway to the sea, reserved area for sailing activities like wind-surf. Thanks to the adjoining club, it has an equippment and services area.
How to reach the beach
The beach of velisti is situated in the municipality of Forio, 250m from the centre. It's easly reachable by bus and car, beacuse it's close the main street. The bus stop lines 1 – 2 – CD – CS – 24 is adjoining the beach.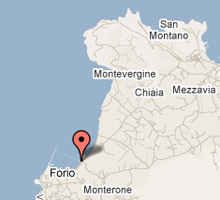 Info
Fine sand and shallow sandy floors.
Adjoining the port of Forio (loc. Monticchio). Info:
Yacht Club Vela.it - Tel. 3387223983
This e-mail address is being protected from spambots. You need JavaScript enabled to view it
Bus lines: 24 - 1 - 2 - CD - CS
Services

Near the centre


Parking


Bar


Panoramic


Prof sicura


Dock


Teaching activities