Ristorante il Torchio

0.0

(

0

)
About Ristorante il Torchio
The restaurant is situated on the green hills of Campagnano, a charming country immersed in vineyards, just a short walk from the tourist town centre of the municipality of Ischia Porto.
From the extraordinary panoramic position, the restaurant offers a breathtaking view of the bay of Cartaromana, the Castello Aragonese, the island of Capri and the entire Gulf of Naples up to the South Latium. The luminous, elegant hall offers a relaxing and peasant atmosphere.
Our special dish
The refined international gastronomy goes well with the local tradition, to create infinitive specialities. Very interesting the international wine list.
Prices
Set menu - à la Carta: 36€ / 55€
Ristorante il Torchio Location
On the hills of Campagnano, loc. Ischia, from the suburb square, where there is the bus stop and a wide parking, a small street to walk 800m, and arrive to the restaurant. A small parking under the hall, at guests disposal, can host few cars.
Special evenings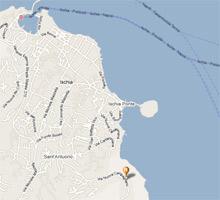 Opening hours
Summer dfrom 01/04 to 31/10

DINNER
12.00

15.00
always
open
LUNCH
19.30
24.00
Chosed from 01/11 to 31/03

LUNCH


Open on request
DINNER
cuisine
typical
meat
fish
coeliac
pizza
services

Parking

Pets allowed

Air conditioning

Open at Easter

Congress

Amex Visa Mastercard Diners

Free shuttle service

Reachable by car
position

In Hill

Reservations welcome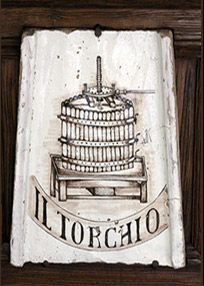 Ischia - 80077
Via Campagnano, 135
+39 081901986
fax +39 081901986
This e-mail address is being protected from spambots. You need JavaScript enabled to view it
User reviews