About "Nonno Orè"
Navicello built in shipyards in Viareggio in 1923, initially for the transport of food and then for the transportation of granite from the island of Elba and the coast of Ostia. The boat has been renovated under the project with licensing ministerial administration, preparation and handling of food and beverages.
The boat is made of sun deck, a large table to consume local products, toilet for guests and a tender of 3.80 m with 25 hp outboard motor.
The boat in wooden oak double plating of 17-meter structured with lateen sail. Powered with an engine of 210 hp AIFO, developing a cruising speed of 9 knots. On board Captain Oreste Marsili and his crew will welcome you for:
Hiking with possibility to go bathing day and night in the bay accompanied by refreshments
Private parties, birthdays, anniversaries, bachelor parties, bachelorette parties, anniversaries and other events throughout with refreshments of local products
Around the island going bathing, lunch or dinner
Excursions with snorkeling and lunch
Lunches and dinners with organized groups for unforgettable moments
The vessel of Oreste, unique in its kind, makes itself available for advertising and film extras.
I'll wait to celebrate your most memorable moments!!
Oreste ... Who wants me?!?! Info and booking: 333 6316395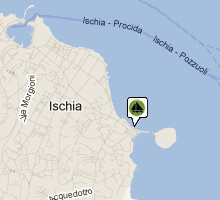 services

Open in June - September

Reachable in auto
location

Near to the sea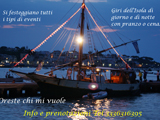 Ischia Ponte - 80077
Embarkation at Pontile piccolo Aragonese near to Bar Cocò or Pescatori Beach (Via De Rivaz, nei pressi dello stabilimento balneare Ippo Campo)
+39 333 6316395
This e-mail address is being protected from spambots. You need JavaScript enabled to view it
Photo by: © Oreste