About Parco Termale Giardini Poseidon
Nowadays, since 50 years, the Giardini Termali Poseidon have been becoming the millstone of Ischia, the park is situated in the beautiful bay of Citara, where 22 thermal pools have been built, according to the modern medical and technical standards.
Every pool has a regular temperature of 20° and 40°, and the waters is often refreshed. The large beach equipped with sun beds and beach umbrellas, sauna, underwater massages, kneipp and Japanese blood circulatory and many restaurants, whose one set on a tuff stone, boutique, complete the offer of this amazing park.
The particular weather - aesthetical - environmental conditions offered by Giardini Poseidon improve the therapeutical effects linked to the helium-marine ones, creating in this way a 'natural healthy mosaic'.
An oasis of quiet and peace in an area of 60.000 square meters ecologically unspoiled, waits for guests for an ideal union of a dream holiday on the sea.
Beauty treatments
Anticellulite, aesthetical treatments body and face. Ayureveda, hot stone, Connective tissue, shiatzu and watsu massages. Plantar reflexology, physiotherapy.

Thermal treatments
Thermo-mineral natural water, based on bromide and iodine4 salts and sodio-solfato-cloruro-alcaline, with magnesium, iron and radon. Suitable for the cure of: post traumatic and degenerative orthopedic diseases, rheumatisms, respiratory system diseases and cataract. Specialist visit and medical consultation.
How to reach the Poseidon Gardens
The thermal Gardens Poseidon are located in the city hall of Forio, loc. Citara. On the Island of Ischia, anyone will be able to provide guidance on how to reach the Poseidon. However, from the port of Ischia, the guest can follow the directions to Forio (approx. 15 km) and, subsequently, to the Citara beach. The same for those who arrive at the port of Casamicciola Terme (approx. 13 Km).
Poseidon have parking fee reserved for guests. The bus lines 2, 9, 21, 22, 23, 24 are only a few meters from the park, while the bus lines 1, CD, CS 1 km about 15 minutes on foot.

From April 15 to October 31 2016 - from 09.00 to 19.00
Wellness packages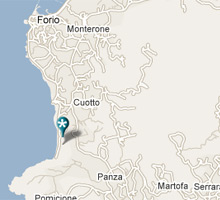 services

Playground

Parking

restaurant

Private beach

Bar

Thermal baths

Indoor pool

Outdoor pool

Gym

Sauna and/or Tuirkish bath

Beauty Center

Open at Easter

Private park garden

Custodia valori

Amex Visa Mastercard Diners

Transfer on request
position

Near the sea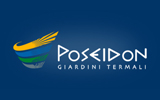 Forio - 80075
Via Giovanni Mazzella, Citara
+39 0819087111
fax +39 0819087130
This e-mail address is being protected from spambots. You need JavaScript enabled to view it