Description
Built as tower of defence and refuge has been afterward included into the palace of Cigliano's family. From its original form, remains only the permanent structure used as wall to access to the upper ground, inside. The rests of the parameter in tuff stone are poor to see the circular plan.
The tower location, high to the street, has guaranteed a good sight against pirates attacks favoring the isolation and loss of identity.
Historic info
The events provoked the tower collapse but the date is unknown.
It's possible to think about the intense seismic activity in Forio between 1861 and 1883 that damaged the building and its demolition seemed the only thing to do.
The building was created in the half of the XVI century, first the circular towers and then the square ones.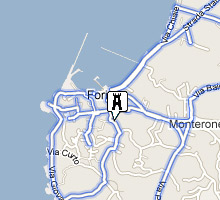 Info
 Location: San Vito
Address: Via Cardinale Lavitrano
Period: XVI
Date: 1550-1599
State of preservation: sufficient
 Property: private