About Albergo Il Monastero
Ex seclusion monastery, set in one of the most beautiful places of the world, 80 mt high above the sea; among historic monuments of Castello Aragonese of Ischia built by Gerone of Siracusa in 475 B.C.
The choice accommodation and breakfast permits to enjoy Castello Aragonese and the entire island of Ischia in total freedom. There is a good restaurant inside that offers the possibility to spend pleasant evenings at the terrace of the monastery tasting the specialities of our recipes: the dinner menu is surprise, so guests can discover dishes prepared by our chef little by little. A sense of polite familiarity embraces the guests and continues through their stay in this place where the rich testimony of the past is projected onto incredible and fascinating natural surroundings.
Rooms
An evocative labyrinth of stairs leads you to the white vaulted rooms, all facing either the sea or the village of Ischia Ponte. The essential furnishings highlight the simplicity of the architecture in which its small windows wonderfully blend with the surroundings and the nature of the Castle as well as the entire island of Ischia. Two rooms in particular are worth mentioning, the superior rooms numbers 8 and 21. room number 8, on the terrace level, a bit larger with respect to the others, has a private terrace overlooking the sea and the north-western coast of the island of Ischia; the large and comfortable bathroom is located outside the room and reachable by a small flight of stairs. room number 21, on the third floor of the convent, has a balcony that faces the dome of the Church of the Virgin Mary and offers views from the village of Ischia Ponte to the Port of Ischia and to the horizontal line of the land.
Restaurant
The love and sense of importance that the Monastery Kitchen reserves for food goes well beyond any standard approach because we seek to care for our guests from breakfast to dinner, with the greatest possible attention paid to the choice of the dishes offered.
In the evening, upon returning to the hotel, and after an aperitif taken at dusk, you will be able to enjoy a romantic evening on our terrace and surrender yourself to the delights of the Monastery Kitchen.
Services
 Among the services that are always available, it is worthwhile to remember: Transfer to and from Ischia, taxi service boat to the main beaches of Ischia, direct ticketing and discounts for entrance into the Negombo and Castiglione Thermal Parks ,Organization of tours of the island and guided tours to Capri, Amalfi, Pompeii, Positano and Naples, Car and scooter rental, Laundry service, Organization of transfers to and from Ischia, agreed parking at 500 mt.

From
April 23 to October 25, 2015

offers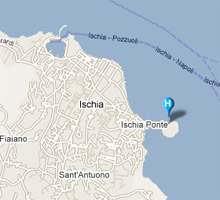 services

Restaurant

Bar

Solarium

Baby Sitting

Open at Easter

Internet/eMail

Telephone

Elevator

Agreed thermal establishment

Private park garden

Congress

Safety deposit box

Credit cards

Transfer on request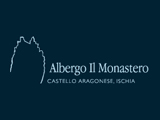 Ischia - 80077
Castello Aragonese
+39 081992435
fax: +39 081991849